Home
> Mattress Protectors
Sleep Safe Mattress Protector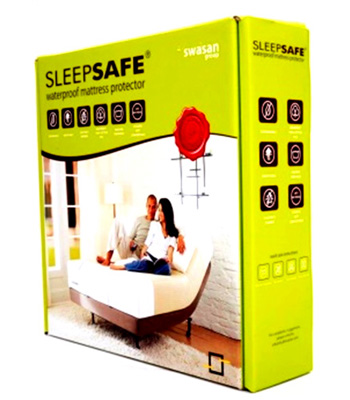 Sleep Safe Mattress Protector
Sleep Safe exclusive waterproof mattress protectors are popular for their ability to breathe, operate silently and provide premium protection from dust mites, allergy triggers and fluids. Offer your baby a more sterile and healthier sleep environment.


Description
Sleepsafe Mattress Protectors offer protection against dust mites, fluids, urine, perspiration, allergens and bacteria making them especially helpful for those with kids, pets, allergies, asthma or incontinence. With just one fluid accident, a mattress can be completely ruined or left with a permanent stain or odor. Sleepsafe protectors safeguard your mattress against fluids and stains offering a more sterile sleeping environment.
Dust mites are a constant problem for many who suffer from daily allergy and asthma triggers. Sleepsafe mattress protectors prevent dust mites from passing into the mattress where they would normally multiply and defecate. By reducing dust mite exposure to the mattress, the sleeper can better control their sleep environment resulting in a reduction in allergy triggers and better air quality. Periodically wash the mattress protector with your sheets to kill and remove dust mites resting on the surface of the protector. ( please see our
Care Instructions
,
Mattress Protector FAQ
and
Dust Mite section
.)
*We recommend washing the protector before initial use to remove any packaging odors there might be.
To prevent heat buildup keeping our protectors cool and noiseless, the surface material is made with soft cotton terry back coated with a breathable polyurethane membrane. To ensure a great fit, an elastic band is used on the side skirt to automatically pull excess material under the mattress. Sleepsafe pillow protectors are also recommended for added dust mite, fluid and allergen protection.
To demonstrate our commitment to quality, Sleepsafe mattress protectors are backed by a full replacement 1-year product warranty. Protect yourself, your family and your mattress with a SLEEPSAFE Mattress Protector.